Put customer service at the heart of your company.
Ticketing System
The quintessential channel for customer service just got better with a few convenient tweaks. All your customer emails get pulled into a convenient interface where you can easily respond to them. This is the best way to handle customer service emails even when you use several email ID's.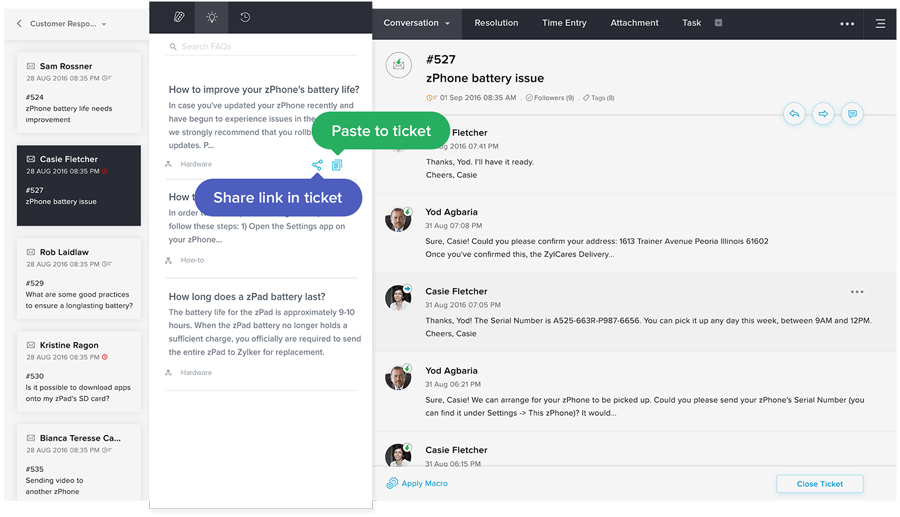 Call Centre Software
We've taken traditional customer service telephony and re-imagined it for the cloud. It comes with IVR, call forwarding, voice messages, missed call notifications, and more. That's all the advantages of a telephony system, but none of the pains.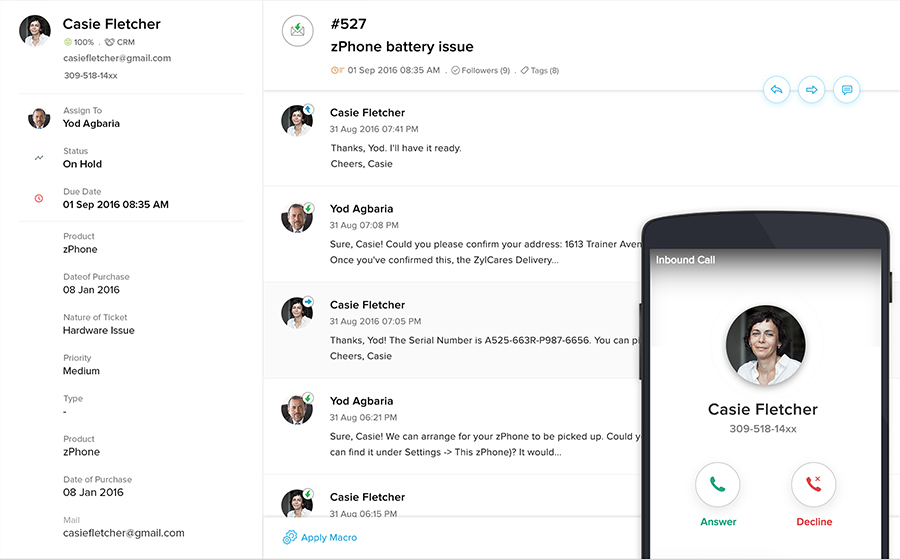 Instant Messaging
Just about everyone uses instant messaging today, even that talkative aunt we all have. It is, by far, the quickest and most convenient way to communicate. Chat with customers and understand their concerns better. Give them timely, personalized help. Deliver happiness instantly.
Social Support Software
Zoho Desk integrates the most popular social media platforms, Facebook and Twitter, with your traditional customer support channels. You can now respond to your calls, mails, tweets, and posts from the same interface.
A lot has changed with the advent of social media, and customer service is no exception. Clients now expect more proactive help from businesses. Zoho Desk is made for this evolving model of customer service. It automatically pulls in all your timeline posts, messages, and @mentions, so you don't have to shuffle between multiple tabs. You can even set up alerts to get notified before a Tweet-storm comes your way.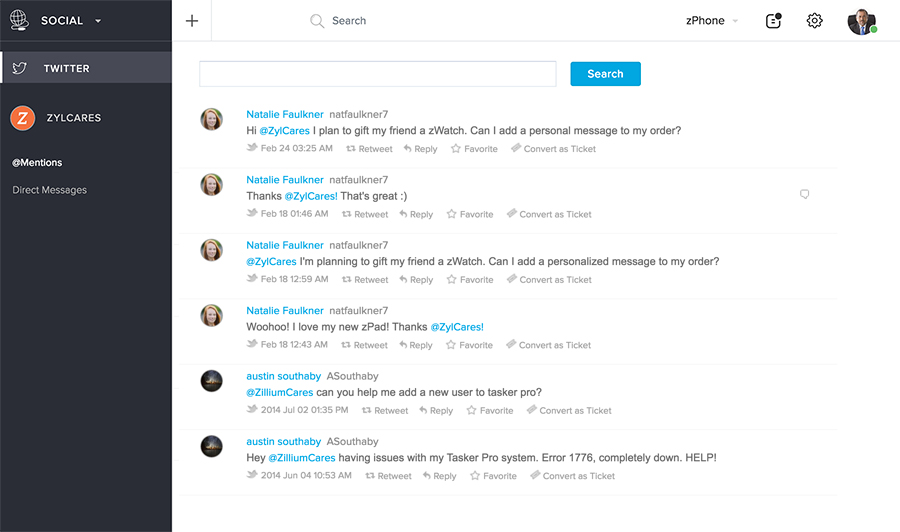 Track Agent Productivity
In customer service, first-in doesn't always mean first-out. Countdown Mode helps prioritize tickets by displaying them based on when they're due. Tickets automatically move to their appropriate column, so agents can stay updated without having to hit the refresh button.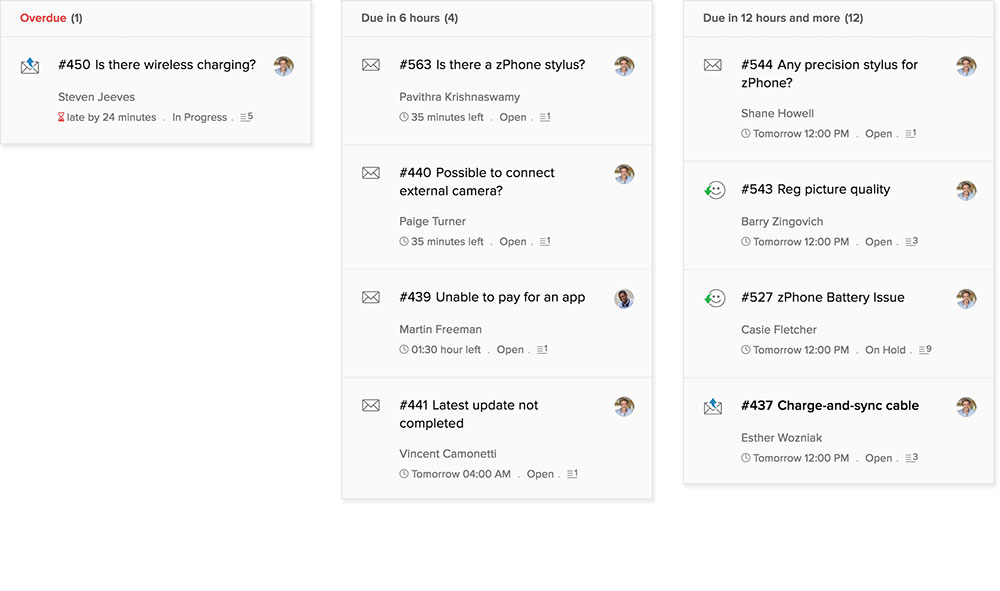 Knowledge Base & Forums
Your customers are happier when they can find answers without having to wait for them. The Help Center makes your team more productive by answering questions before customers contact support.
Create Knowledge Base Articles to answer your customers' frequently asked questions. Use the Knowledge Base to save your team the work of responding to simple questions, so you'll have more time to help customers with tricky problems.
Full Integrated
Zoho CRM integration gives your sales and support teams a holistic view of your customers by maintaining a single customer database which is always in sync. For the integration, you must have Administrator privileges in Zoho Desk. Also, make sure that you have a Zoho CRM administrator available with you.
Reporting & Insights
Use detailed reports to understand your team's performance. Built-in dashboards help you track and improve your service using the most common metrics. Get additional statistics by creating your own reports as well. The ticket overview is the gateway to all the stats available to you. In a single screen, you get the big picture because all the metrics you want to see first are displayed here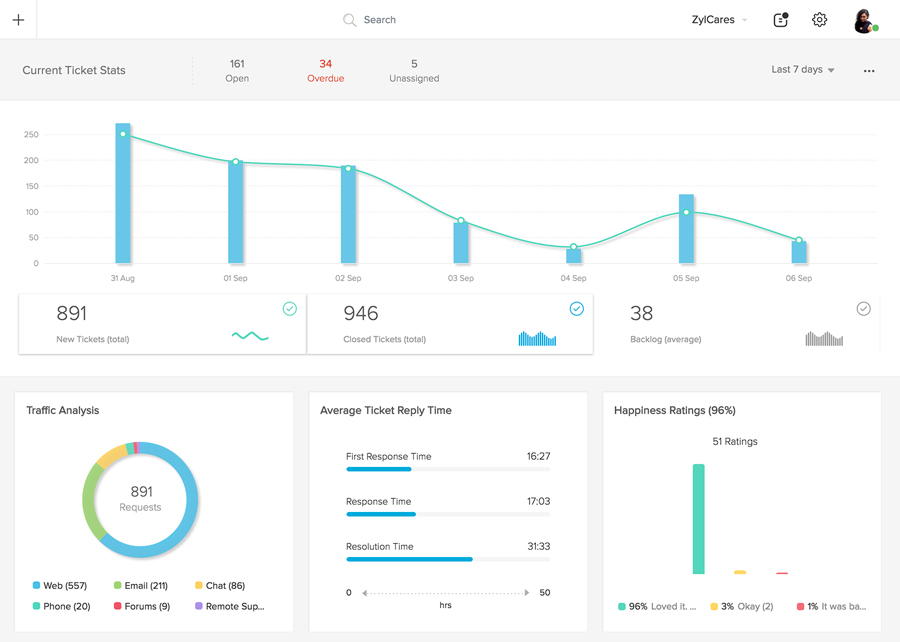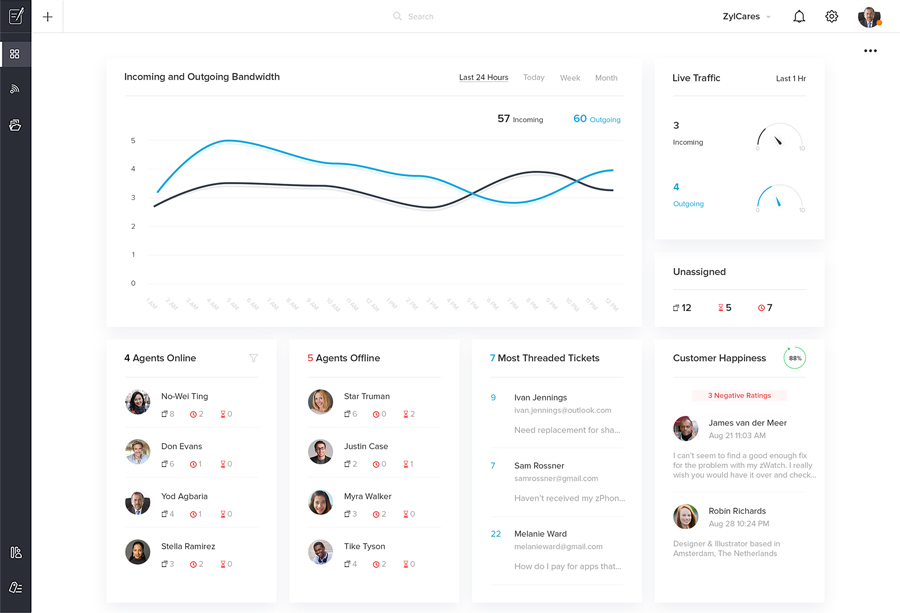 Reporting & Insights
This one's for the managers. Get all your stats together through the HQ, and see what your team is up to without having to switch between endless tabs.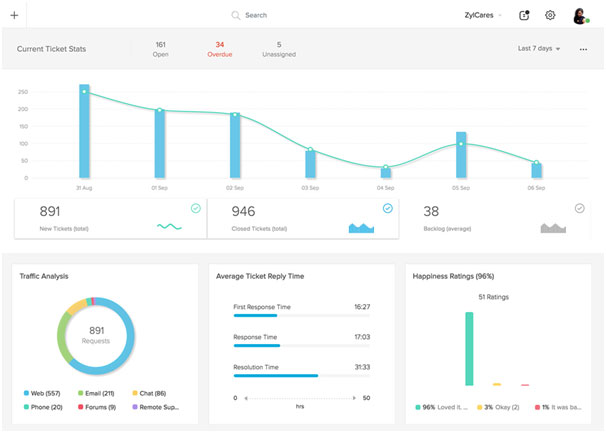 ENTERPRISE
€25
An Enterprise-Class Helpdesk
Everything in Professional+
Multi-brand Help Center
Scheduled Reports
Cross Department Reports
Contract Management
Custom Ticket Templates
Role Based Access Control
Zoho BugTracker Integration
Cloud Telephony with IVR
Live Chat Support
TRY NOW
PROFESSIONAL
Everything in Free+
Multichannel Support
Helpdesk Automations
Multi-department Management
Advanced SLAs w/ Business Hours
Integration with Zoho CRM with two-way sync
Customer Happiness Ratings
Cloud Telephony using Twilio
Advanced Reports & Dashboards
TRY NOW
FREE
Email Inbox & Web-form
Work Modes
Customizable Help Center
Knowledge Base
Community Forums
Re-Branding
Domain Mapping
Priority SLAs
Basic Reports
Agent Dashboards
Manager Dashboards
Ticket Overview Dashboard
The Team Feed
SIGN UP