An end to end Customer Engagement Suite
Zoho CRM Plus unifies your customer-facing teams with a single all-in-one software and provides them with visibility of every customer interaction. Empower your teams with the technology they need to give your customers a better experience.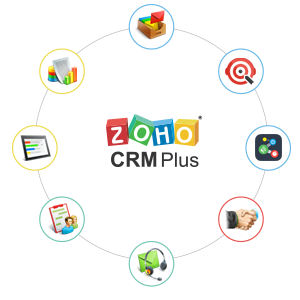 Benefits
Create effective email campaigns to reach and interact with your prospects.
Proactively chat with your website visitors and convert them into prospects.
Create, schedule and deliver your social media content when your audience is most likely to engage.
Manage your sales pipeline, spot opportunities, increase win rates and grow your business.
Deliver unmatched customer service across multiple channels, languages and time zones.
Plan, track and collaborate on client deliverables using our project management tools.
From click to deal, it's all in one place. Drill down your Google AdWords campaigns and improve conversion rates.
Gain data-driven insights on your sales performance with smart dashboards and KPIs.
Gather opinions, analyse results and discover better ways to exceed customer expectations
CRM
Zoho CRM is a cloud based solution that helps you track sales activities, predict customer behaviour, automate.
Marketing Campaigns
Create, send, and track effective email campaigns that help you build lasting relationships with your customers.
Help Desk Software
Zoho Desk is the industry's first context-aware help desk software that helps businesses focus on the customer.
SalesIQ
Complete Visitor tracking software, for every user license, you can track up to 5k website visitors. For example, if you have purchased 20 user licenses, you can track up to 100k website visitors every month.
Social Media Management
Manage multiple social networks, schedule unlimited posts, monitor keywords, and collaborate with your team - all from a single dashboard.
Advanced Reporting Analytics
Zoho Reports is a BI and analytics solution that allows you to create insightful reports and dashboards. It assists you to visually analyze your business data, and to take informed decisions.
Surveys
Create online surveys that integrate with your CRM contacts.
Project Management
Plan, track, and collaborate using the preferred project management application of more than a million users.
Mobile Ready
Download all the above products from the Apple or Android App Stores